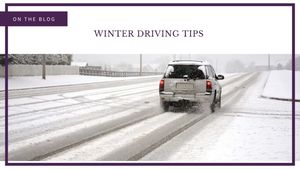 Winter driving can be dangerous, especially for an unprepared or unskilled driver. The last few winters have proven that winter weather isn't just for the north anymore. You never know what weather could occur. These tips can help keep you safe in wintery weather.
Winterize Your Vehicle
Being prepared for winter is the best thing you can do when the weather changes. Start by making sure your vehicle is ready to handle the weather.
Be sure your tires have enough tread and are properly inflated.
Always have at least half a tank of gas.
Inspect your brakes for safety.
Make sure all of your lights work.
Be Prepared
Having your vehicle ready for winter conditions doesn't just mean prepping the outside. Consider the things you might need in the event you get stuck or find yourself in the cold. Be prepared by stocking your car with the following:
Blankets
Warm clothing
Food and water
Flashlight
Ice scraper
Phone charger
Jumper cables
A shovel or broom to remove snow
Sand or kitty litter for traction
Medications that may be essential
First aid kit
Tool kit
Avoid Crashing
To avoid crashing,
If you start to slide, take your foot off the gas and don't hit the brake.
Steer in the direction you slide so you don't have to oversteer.
Have more space between you and the driver in front of you.
Don't be overconfident in your skills, your vehicle, or the road conditions.
Don't try to force your vehicle and spin your wheels.
Slow And Steady
If road conditions are poor due to snow, ice, or even rain, driving slowly is best. Accelerating and decelerating slowly will help prevent you from losing control. It's hard to stop when roads are slick.
Take turns slowly. Turning fast can increase your chance of losing control and sliding.
Avoiding stopping when possible. Coming to a full stop may keep you from getting going again. Now that's not to say don't stop at red lights and intersections when necessary, but stopping going up hills and at other times may cause you to get stuck and unable to move again.
Clear Your View
Don't start driving if your windows aren't clear. Start your vehicle early so they have time to defrost and make scraping easier if necessary. It is vital that your view is clear on all sides and behind you to avoid accidents. Also, remember to clear your mirrors and cameras too.
Don't Go Where You Don't Need To
When the weather gets bad, the best thing you can do is stay home if you can. If traveling isn't a necessity, avoiding it is best. Taking unnecessary risks can put you in danger of accidents, injury, or exposure to the cold.
Know Your Vehicle
Understanding your vehicle and its functions is essential in both good and bad weather. Know what features your vehicle has and how they are expected to function.
Traction control can help when roads are slippery or wet. It does not guarantee your car won't slide and may not work well with snow tires.
Anti-lock brake systems help slow you down and prevent you from losing control when trying to stop.
Four-wheel drive (4WD) can be useful in winter conditions but does not make traveling on ice easier.
All-wheel drive (AWD) can come in handy when winter strikes too. AWD provides power to all four wheels rather than just the front or back, creating more ability for traction and control. This is not equivalent to 4WD.
Front-wheel drive (FWD) is preferred over rear-wheel drive (RWD) in winter weather if AWD is not an option. FWD is better because the vehicle is heavier in the front which improves traction and pulls the vehicle forward.
Summing It Up
Winter driving can be scary. It can also be dangerous. Be sure you know your vehicle. Be prepared when driving in inclement weather. If you don't have to face the weather, avoid it. If you do, make safe choices.
AFI – Armed Forces Insurance
Brought to you in partnership with the AFI Education Foundation. Armed Forces Insurance is here to protect those who protect our nation. Providing military members insurance for home, renters, auto, and much more. Created by former military leaders, AFI understands the challenges that military members face. Proudly served active, retired, and former military members and their families for over 135 years.
Brandy Hall, Nurse Writer, turned a passion for patient teaching into content writing. She teams up with health and wellness providers to improve patient health and relationships. By creating easy-to-understand patient education content, she helps patients understand their health without complex terms and jargon. Now she explores the world through creativity and adventure as a mom and military spouse.