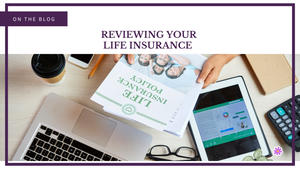 Life insurance is not just something to think about later in life. This is a benefit that will help support your loved ones at any time. You never know when you are going to need it and it's best to have it. You also need to make sure it's up to date, but how do you know? When do you change it?
Reasons You Should Review Your Life Insurance
MARRIAGE
Getting married is a big reason to review your life insurance. Having life insurance to safeguard your spouse financially is one of the biggest reasons people get it. Life insurance can keep your spouse from being stuck with the financial expenses of your home and other debts. Make sure your life insurance covers these expenses as well as the immediate costs of your passing, like funeral expenses and losing your income.
DIVORCE
If you have to experience a divorce, you need to reevaluate your life insurance. You probably don't want to keep your former spouse as a beneficiary. If this is true, it's important to change your policy and name a new beneficiary. It's also important to determine whether your policy will cover alimony or child support, if necessary.
CHILDREN & GRANDCHILDREN
Reevaluate your policy every time you have a new child, whether through birth, adoption, or fostering to adoption. Every new child should equal an increase in life insurance. Consider the costs needed for each child, their future needs, and your income. As a grandparent, you may wish to provide for them as well.
Be sure to think about child care, educational, and daily living costs. Will your spouse need extended bereavement leave if you're gone? Is your spouse a stay-at-home parent dependent on your income? Consider all of these factors as your family grows.
CAREER
A career change can change your income. It can also mean the loss of your life insurance policy. Be aware of where your policy stands. You may have an increase or decrease in income with your new job. Will this change your policy?
A NEW HOME
Purchasing a new home is a reason to have a  life insurance policy. Should anything happen to you, you'll want to be sure your family and new home are covered by your policy.
BUSINESS
Starting a new business can change your life insurance. Maybe your employer provided a life insurance policy and now you have to have your own. Perhaps you enter into a partnership. Life insurance can help protect your business partner and the business.
OTHER DEPENDENTS
As we age, so do our family members. It may be necessary for us to take over care of our parents later in life. You may also find yourself caring for a child with special needs for many years to come. You'll want to make sure your life insurance policy covers their needs should anything happen to you.
Will you need to leave them financial support? Will they need to live in a facility and receive care if you can't provide it? Will your coverage help hire a caretaker to replace your care?
RETIREMENT
Don't wait until retirement to get life insurance. At the same time, don't let your policy slip because you've retired and your family has grown and moved on. Use life insurance as a means to cover your final expenses and create a legacy for younger family members. Also, reassess your expenses at retirement and ensure that your policy covers your needs.
HEALTH STATUS
If your health status changes and you become significantly ill, it is wise to review your policy. This ensures you are up to date should anything happen due to illness.
DEBT
Be sure your life insurance policy will cover your debts at any point. If you acquire new debt, you should review your policy to make sure it will be covered.
INHERITANCE
If you receive an inheritance from a loved one, it is wise to reassess your life insurance policy. This can change the amount you leave to your beneficiaries.
DEATH OF A FAMILY MEMBER
If a beneficiary passes away, you'll need to reevaluate and update your life insurance policy.
In Conclusion
Keeping your life insurance up to date is important for you and your family. Even if you don't have any of these changes, you should review your policy every few years to make sure it still covers everything you need. Things will change often in your life and this is not something that should be overlooked. It is necessary to do these things in a timely manner because you never know when something could happen.
Navy Mutual
Protect your family and your future. Navy Mutual's financial support gives you stability when your family needs it most. Providing high-quality, low-cost life insurance and annuities, as well as the service and education you need to understand the benefits for you and your loved ones. Click here for a quote from Navy Mutual today!
Brandy Hall, Nurse Writer, turned a passion for patient teaching into content writing. She teams up with health and wellness providers to improve patient health and relationships. By creating easy-to-understand patient education content, she helps patients understand their health without complex terms and jargon. Now she explores the world through creativity and adventure as a mom and military spouse.