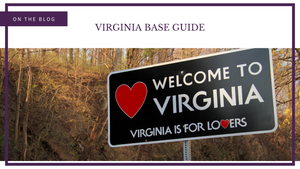 Virginia is for Lovers…and bases! Virginia is the home of 27 military installations- at least one for each branch of the military. Whether you live in Virginia or are just passing (or PCSing) through, there's so many historical landmarks, beautiful beaches and attractions you'll want to add to your bucket list.
Historical Landmarks
Williamsburg is a historical town that was recently restored for families to enjoy and learn about our founding fathers in the process. In Colonial Williamsburg, you can find yourself stepping back in time on a guided tour where you'll get to see shops, townspeople and politicians (really well dressed actors of course). You even have the opportunity to try an 18th century- inspired meal. Williamsburg also offers sightseeing on their guided ghost tours.
Fredericksburg is a city south of Washington DC that has several historical spots that you won't want to miss. You're able to visit and walk through the four different Civil War Battlefields, as well as tour Revolutionary era museums and George Washington's childhood home. It also doesn't hurt that the A. Smith Bowman Distillery is nearby and was voted World's Best Bourbon two years straight! So grab yourself a drink and enjoy the historic sites around the city.
The Arlington National Cemetery is run by the United States Army and is the final resting place for soldiers that have sacrificed their lives for our country. Many people visit this cemetery every year to honor those who have served our nation. There are also opportunities to volunteer at the cemetery; such as placing wreaths on each headstone for the winter months, as well as putting them away. You can also find the Tomb of the Unknown Soldier monument on the cemetery grounds.
Nature
One of the most famous attractions in Virginia is The Shenandoah National Park. This park has amazing hiking trails that take you along the Blue Ridge Parkway which protects the Blue Ridge Mountains. Break points on these trails include President Hoover's seasonal home and the well known Cave Cemetery. You can also be sure to see plenty of blooming flowers, changing leaves and gorgeous waterfalls throughout this 200,000 acre park.
Luray Caverns is one of the largest caves in the United States and it's just a short drive from The Shenandoah National Park. This cave has several stone formations and mirror pools to see all while being taken on an informational guided tour. There is also a Car and Carriage Caravan Museum, a Garden Maze and a Rope Adventure park all on the same property.
Family Fun
Busch Gardens is an amusement park located in Williamsburg that is now open all year round. It has over 400 acres of roller coasters, animal attractions and more! The park also offers free admission to active military/veterans, along with 3 of their dependents once a year. Just verify your military status on ID.me and enjoy your free passes!
Don't forget to check out our Virginia Military Spouse Network group on Facebook!
My name is Brittany Banks and I'm a PCS Mentor with MilHousing Network. My family and I are stationed at Fort Meade in Maryland and love visiting historical sites whenever possible. We love living so close to Washington DC and Virginia for this very reason!