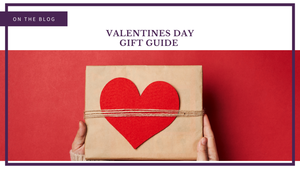 As Valentine's Day nears, you'll find gift guides galore helping you find a way to love your spouse or partner well and help them feel seen. Valentine's Day is often advertised with red roses and chocolates, but what if your spouse isn't a fan of sugar-laden boxes and flowers? Here are some ideas to give your Valentine a personal touch specific to your loved one!
If your Valentine is an adventurer…
Look up what is happening in your city's calendar or within your state. Perhaps there is a fun scavenger hunt day or festival. If you know their bucket list, see if there is anything you can cross off, like a hot balloon ride or heading a few hours away to go spelunking through a cave system. Planning a night or weekend away with different activities can be perfect for the adventurer who can't always get away to explore.
If your Valentine likes cozy days at home…
Sometimes a chill night is all someone wants or the soft comforts of home. An electric blanket with their favorite snacks and a copy of their favorite movie from when they were a teen can be a fun nod to their personality and tastes. Weighted blankets can be a treat for those who struggle with overwhelm or like to hole up like a hobbit in winter. Perhaps a themed mug with fancy tea, bath bombs, or new soft slippers are the right choice if they use similar items often.
If your Valentine has been craving a break…
For some parents, a Valentine's Gift of quiet and space is an exquisite gift; whether this is you finding a sitter for the kids for half a day, hiring someone to clean the floors, or giving them a night in a hotel by themselves to get a full eight hours of sleep, you can't go wrong. These ideas may seem odd, but they might be the ticket for them to feel restored and ready to hop back into the busyness of life the next day.
If your Valentine likes the outdoors…
Head to the nearest national park for a weekend of hiking, camping, and star spotting. You can bring the outdoors inside if your partner has a green thumb by taking them to the local plant store. A unique plant they've been eyeing may be available, and the clearance section can always be a fun way to find a new love fern to tend.
If your Valentine likes a specific fandom…
Between Comic Cons, Etsy, and in-person stores, you can find anything from t-shirts to tea towels in the fandom your partner adores. A signed poster from their favorite movie or a statue of a character from a beloved video game can decorate their desk space. There are even decals to make your kitchen mixer look like R2-D2, so whatever they love, you'll be able to find a fandom item to fit the bill.
Let us know in the comments, which of these ideas you'll be using, or share your own "If your Valentine likes…." idea!
Aj Smit is the author of the book Red Thread: Weaving an Embodied Life of Joy, speaker, glitter enthusiast, and professional weaver of Joy. She is a military spouse in S. Korea with a pup and houseplants galore. Aj has led various Red Tents, retreats, and workshops internationally over the last ten years to help others discover how to weave creativity and curiosity into their lives. You can find her on Facebook and Instagram at @TheJoyWeaver and TheJoyWeaver.com