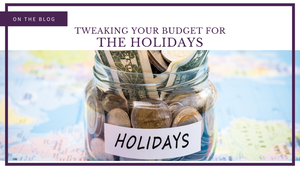 It's fall which means the holiday season is here! I love the holidays and all the memories we can make together as a family.  There are so many fun events and memories to be made, but those activities can bring on extra expenses too. To get through the holiday season and keep our budget in place we need to plan and really do what matters most. If the holidays are meant for fun and memory making, then the last thing we want to do is have them stress us out by pushing our budget over just to enjoy them. To have the best holidays together there are some simple things we can do to tweak our budget a bit and plan, so this holiday is budget friendly and full of amazing moments too.
Creating a budget is the first thing we must do to stay on track with our finances this season. Really knowing what we can spend will let us make realistic plans and set expectations at the right level so we can enjoy the holidays without stressing out the finances. Creating a budget first and then tweaking it as we look at the events, holiday parties we will host and gifts we will buy will keep us on track so we can enjoy those moments and not end up stressed out and over budget.
Pull out calendars and put all the activities that will be happening and then put a price tag on each activity or event. Knowing where we will be spending can help us plan and save in advance. It will also help us to say no and cut unnecessary events and expenses so we can focus on what is the most important events to attend or host.
Planning and saving each month can make a big difference going forward. Do you have a holiday fund? Do you have a budget for things like gifts, hosted meals, family outings or holidays photos? By saving each month and planning we can do all those little things we love but add up. If you need some support for budget planning and savings plans there are a lot of resources for our military community. Did you know there are services to help with budget planning and organizations like Armed Forces Bank can give the tools needed to create a plan to enjoy the season and peace so that we aren't overdoing it, but just have a plan in place.
Gifts are a fun part of the holidays but can get out of control very quickly. I love giving gifts especially to my kiddos and want them to have all the things on their wish lists, but that can't always happen. Having realistic conversations with kids about budget and looking at expectations will not only help with your budget, but also with holiday moments so that nobody is disappointed. Also, making a list of everyone that you need to buy for and then deciding in advance how much you will spend on each person will make a big impact in your overall budget.
Look for free holiday activities or events. If you live close to a base, there are often free events, and the community will host family events too. There are so many things that can be done cheaper or even free and can make the best memories. A cozy night by the fire with hot cocoa and a movie doesn't cost much but is one of our favorites. And what about adding smore's for some extra fun. Making homemade gifts can be a great way to make memories together. There are so many amazing things that aren't expensive or free to enjoy so putting those on the calendar will be intentional ways to not only save money but enjoy the holiday season.
The holidays are meant to bring us together and should bring joy and peace. Memories made don't have to be expensive and planning will make a big difference in the overall budget. With a few tweaks and proper planning this holiday season can be the best one yet no matter what your budget is.
---
Did you enjoy reading this article? Visit our blog page to read other similar articles.
---
This article was brought to you by Armed Forces Bank, a premier provider in banking services for those who have serviced since 1907.
---
As CEO for Inspirational Inc. and founder of "Tea With Chantel" trainings & workshops, Chantel Mathson inspires women to live with purpose and build thriving community. She has traveled all over the U.S. and Canada, speaking and inspiring others to become impact makers. Chantel has been a featured speaker at NASA Space Center, The University of Notre Dame and numerous national conferences. She is a keynote speaker, workshop facilitator, blogger, bible teacher, military spouse mentor, author, and professor of communications. Chantel shares her heart and home with her husband, three kids and two dogs in California. As a Military spouse she has moved twelve times and has a heart for helping military wives connect, find their purpose, and create community. Her Tea with Chantel business evolved as she moved across the country and had to create new community herself. She is always ready to share a cup of tea and would love to connect…  FB/Twitter/Linkedin/IG @teawithchantel or Instagram.com/teawithmilitarywives and teawithchantel.com