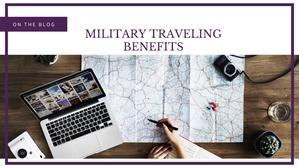 Traveling can be a little easier on your wallet when you take advantage of military travel benefits. Many organizations have made traveling more affordable for military members and their dependents by offering discount options on airfare, lodging, entertainment, etc. These benefits are often available to active duty or retirees, though an ID card may be required.
Get The Deals
Discounts are available in multiple ways. Begin by looking at programs offered through the Morale, Recreation, and Welfare (MWR) Program. The MWR offers deals on attractions, events, hotels, and more. Deductions are also available directly from merchants or service providers.
So…What's Available?
When planning your adventure, look at what you want and where you might find discounts.
LODGING
Many hotels and resorts offer discounts to service members when you ask. Discounts range anywhere from 15 to 65% depending on the chain you plan to stay with and when you book. These discounts may also be available for vacation clubs, airbnb, and more.
On-Instillation lodging may be available through the Department of Defense, depending on where and when you travel. Active duty members receive priority, so plan in advance as space may be limited.
Campgrounds all around the country offer discounts, including national parks. Whether you enjoy tent camping, using a camper, or would prefer to rent a cabin, there is something for everyone. Find your next campsite.
PLANES, TRAINS, AUTOMOBILES, & BOATS?!
Flights
As with any flight, travel benefits depend on where and when you plan to travel. However, airlines often provide perks for military members and their families. Be sure to notify the airline that you are military and how many dependents are in your party. Benefits may include:
Airfare Discount
Free or discount baggage fees
Free or discount oversized baggage
Access to exclusive lounges or clubs in the airport
Discounted pet travel fees
TSA Pre-Check
Specific airlines offer additional perks as well, such as early seat assignment, free checked baggage (up to five bags), or pets in the cabin. Ask your airline when booking for additional details.
Space-A
Space-Available flights may be available at low or no cost through the Air Mobility Command. Some flexibility may be necessary as flights may or may not be available when required. Military members and families can fly to and from their destinations using Space-A with the right qualifications.
Transportation
Amtrak offers a 10% discount on train tickets, as do other rail services at city, state, and international levels. Plus, you don't have to wait in line.
Rental car companies offer discounts depending on which company. Military ID is required. Discounts range from 10% off the rental to discounted waivers and more.
Catch a bus with Greyhound, Trailways, or other companies, large or small, national or local, and receive a discount on your ride.
Cruises
Military.com has a list of cruise lines offering military discounts, including Royal Caribbean, Carnival Cruise Lines, and Princess Cruises.
FUN AND FARE ONCE YOU'RE THERE
Recreation
Discounts are available for amusement parks in a couple of ways. The parks often offer them outright with Military ID. Disney Parks, Universal Studios, and other parks have discounts available. Waves of Honor will help provide discounts to parks like Seaworld, Busch Gardens, and Sesame Place.
Museum discounts are available through Blue Star Museums.
Get discounts for national parks and enjoy what nature has to offer with America the Beautiful passes.
Dining
Countless restaurants offer discounted dining to military members. Some offer a standard discount of 10 to 15% while others are significantly higher. Depending on when you are traveling, certain holidays like Veteran's Day evoke higher discounts.
Membership Programs are also available for discounts on entertainment and other travel needs, including Veterans Advantage and Vettix.
American Forces Travel is a great place to find discounts on vacation packages, hotels, flights, rental cars, etc.
Keep in mind having a credit monitoring service watching your credit report is an extremely useful tool while vacationing this summer! You'll want to know if there are any potential identity theft threats or even fraudulent charges that stem from getting your identity stolen. Our partner IDIQ has daily credit monitoring services that offers an insight to when changes are made to your credit report profile. They actively monitor your Social Security number, change-of-address notifications, international and national most-wanted lists, and keep an eye out for your information on the dark web to ensure your identity is protected.
Planning your trip has plenty of possibilities when you add the numerous deductions available as a military member and family. Opportunities are available to fit every wish with a bit of research and prepping in advance.
---
Did you enjoy reading this article? Visit our blog page to read other similar articles.