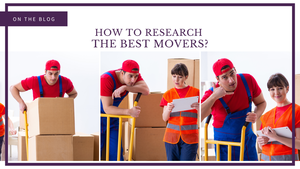 Whether it's time to PCS or move to your final home destination, you may be ready to call in reinforcements. Moving is a big deal and it takes a lot of work. From packing each room to loading and unloading, there is a lot involved. Hiring a moving company can take a ton of pressure off of you, your spouse, and your family. Here are some tips for how to find the best movers for you.
WHY HIRE PROFESSIONAL MOVERS?
Hiring a professional moving company will save you time and energy. Moving is hard work and can really put a strain on you and your family. Let someone else do the heavy lifting and remove that stress from your to-do list. You have plenty of other things to worry about in this process. Why worry about all the lifting and shuffling of boxes and furniture too?
WHAT AM I LOOKING FOR IN A MOVING COMPANY?
Finding the right moving company can be challenging. The last thing you want to do is have a bad experience or make your move more stressful. These tips will help you find the right company for you:
Ask for referrals. Military moves happen so often, it's not hard to find someone who knows a thing or two about a moving company.
See what companies the Better Business Bureau suggests. The BBB gives ratings and accreditation to companies that do well.
Look for licensed and insured moving companies. Interstate moving companies are verified with U.S. DOT licenses.
Review at least three companies to compare services and rates before choosing. This will help ensure you get a fair deal. You should also receive an in-person estimate. They need to know how much stuff you have before they give you a price.
Watch for red flags! Anyone asking for cash up front is likely a scam. Take note of whether they appear professional, if they are on time, answer your questions appropriately, or if they have rented equipment or trucks rather than their own.
Verify their address and business location. Be sure the company has a physical location with a legitimate business.
Only accept written estimates. Do not accept verbal estimates or suggested prices. From anyone.
Companies with employees with background checks.
Experience moving interstate or internationally.
Shipment tracking is very helpful. It allows you to know where your belongings are during the move and prepare for possible delays.
ARE MOVERS AVAILABLE FOR MILITARY MEMBERS?
If you choose a complete military move, the Transportation Service Provider (TSP) will assign a moving company for you. The moving company will provide full service. From packing and storage to shipping and unloading in your new home.  Some moving companies have contracted with the military to be ready for moves like this.
You might opt for a Personally Procured Move (PPM). You select the moving options and do it yourself (formerly known as DITY). The government will reimburse you 95-100% for this option. You can save money this way. You can research moving companies to find military discounts or lower rates. Some families elect to skip moving companies altogether and go it alone. But, that won't make the process easier or less stressful.
REVIEW YOUR OPTIONS
Now you know what you are looking for when you start searching for moving companies. You have the option to let the TSP assign one for you or you can pay for a company on your own and be reimbursed. Weigh your options and do what you can to remove as much stress as possible. PCSing and moving are hard enough. Don't make things harder than it has to be.
MILHOUSING NETWORK
Making PCSing better through support and guidance. Providing military-focused real estate agents to support military families around the nation. Our agents put your needs and success first. We're here to help you find the best home for your family at your next duty station.
---
Did you enjoy reading this article? Visit our blog page to read other similar articles.
---
This post was brought to you by Navy Mutual, which specializes in affordable life insurance and annuities for those who serve (or have served) our nation. To check out their services in-depth, follow this link!