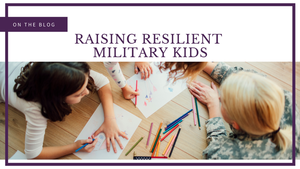 "We're moving again?" was a question cried out more than once in my household. Our kids had to resettle in a new "home" over ten times during my husband's military career. The top five most stressful life events for an adult include moving; imagine how much harder that can be for kids? Seven tips for helping your kids through PCS and other military transitions:
Plan a special way to reveal the announcement of your next assignment. I have a friend whose husband decorates a cake and serves a meal that is themed for their new location and shows the family where that is on a map. It builds anticipation for the upcoming move and creates a special memory.  You could even announce a deployment in this manner with dress appropriate to the deployed location.
Research the area ahead of time and gather a list of activities your kids might enjoy. I even assigned a creative project where each of my kids had to pick their top ten activities from the list I compiled. With an adult's supervision, they researched the attraction online and gave us a brief overview of the activity. Not only did this increase the anticipation for the next move, but it gave us a list of activities in the new location.
Attitude is everything! Your kids will partly reflect what they observe in you. Try to control your own anxious or negative emotions and do your best to process the upcoming move in a positive manner. Think of it as an adventure and encourage that in your kids.
Involve the kids in the preparation before and unpacking after the move. My kids liked to put a special sticker on all of their boxes which helped them find their stuff faster. Help them choose what special things travel along in your vehicle(s) during the journey. Prioritize setting up your kids' rooms before the rest of the house; it will speed along a feeling of security.
Allow your kids to grieve – plan a farewell party for them.
Make efforts to make new peer connections for them – ask your network of military friends if they know anyone who will be in your new location; join social media groups for your new installation; or reach out to organizations or churches who might host activities that would interest your kids.
Give them the freedom to make some choices about decorating or choosing their new room.
---
This article was originally provided by IDIQ Solutions. IDIQ brings superior benefits and a team of U.S.-based experts to offer the highest level of customer service to bring you industry-leading identity theft protection, credit monitoring, and data breach management, more information can be found at https://www.idiq.com/.
---
Did you enjoy reading this article? Visit our blog page to read other similar articles.