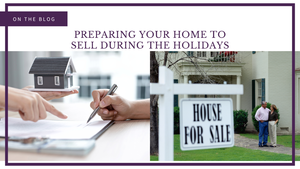 Deck the halls has never been more true than when you are preparing your home for a sale during the holiday season. Why? It's a unique opportunity to make your home scream warmth, family and "buy me, buy me" for all the potential buyers heading your way.
Anytime you are preparing your home for sale there are typical things to watch out for. One of the tips usually heard from real estate agents is that "less is more" meaning, avoid excessive knick knacks or clutter. As we know, the holiday season tends to bring all the sparkles, greenery and festive décor. But there is a way to enjoy this special time with your family while also utilizing the environment to create a positive and "have to have it" experience for those you show your home to.
Less is More-ish
When prepping your home for a holiday sale you should still avoid clutter and needless dusty collecting. But adding items like fresh greenery, welcoming wreaths and intentionally placed décor items can go a long way to welcoming in your buyers while not overcrowding your space. This goes for outside too – maybe go for a minimal decorating style over a National Lampoon Christmas Vacation kinda situation.
Staging the Senses for the Sale
It's tempting to go all out with the candles, smell-good oils and cinnamon. But – you'll want to tone it down. This is a tip recommended regardless of the season you're selling in, by the way. As human beings our mood is inspired by things like colors and definitely smells. While that Toasty Christmas Morning may delight your senses, it could cause a potential buyer to go into a sneezing fit – possibly ruining a sale opportunity.
Bake it Up
Endless cookies are baked during the holiday season. If you've put away your smelly things, this is a great alternative. There's nothing like the smell of freshly baked cookies. Leave them out in a beautiful platter with a note welcoming potential buyers into the home can go a long way.
Selling your home is already a somewhat stressful experience and doing it during the hustle and bustle of the holiday season certainly won't make it easier. But cheers to hoping these quick tips and tricks make it a little bit easier for you.
---
Did you enjoy reading this article? Visit our blog page to read other similar articles.
---
This article was provided to us by Jessica Manfre at Caliber Home Loans. If you are looking to begin your journey as a homeowner, Caliber is a fantastic place to look for a wide range of options to reach that destination.