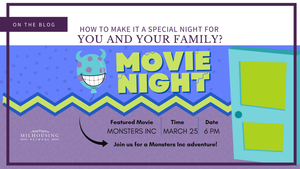 The Monsters Inc. movie night may still feel far away, but it's never too early to start planning the small details to pull off a fun night for everyone involved. Signing up to receive our OCONUS-friendly snack box is one option that can make your night special, but there are also other ways. We compiled a couple of movie night ideas, and now it's up to you if you want to turn any of them into reality on March 25th.
BUILD A LIVING ROOM OASIS
Most of us will likely end up watching the next movie indoors due to March being one of the cold months of the year. Try to transform your living room into a place with lots of different options where to sit and lay down other than just the couch. You can bring lawn chairs inside (kids will surely like anything out of the ordinary), blow up an air mattress, set up a picnic blanket, and most importantly-have lots of fluffy pillows and warm blankets for added comfort. If you have a fireplace, get it going, and you can also hang up some lights to set the mood.
HOST A MOVIE NIGHT PICNIC
What is a movie night without snacks? Abundance is the key word! Set up a charcuterie board, make or order pizza, serve milkshakes—the options are endless. Don't forget popcorn! To make everyone feel special, you can create personal snack baskets and fill them with different snacks that each person likes or lay out all snacks on the picnic blanket and have a feast. For snack and drink inspiration, follow us on MilHousing Network Movie Nights Facebook group where we will teach you how to mix a tasty cocktail/mocktail and show you fun ways to arrange your charcuterie board.
CREATE A CINEMATIC EXPERIENCE
Make everyone feel like they are in an actual movie theater. You can start by printing out fake movie night tickets and setting up your own concession stand. Write the name of a movie that will be played on a chalkboard and write down the menu of what will be served. Have everyone stop by before the movie begins to "order". Make sure to add a straw into everyone's drink. Popcorn machine for the win!
---
Did you enjoy reading this article? Visit our blog page to read other similar articles.