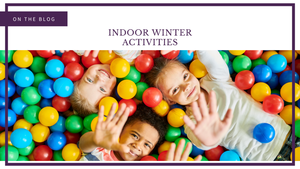 Whether you are stuck inside during this cold winter, or you're just looking for other fun indoor
activities with your little one, we've got a few exciting ideas up our sleeve that will keep you and
your family active during this time of year! It's important to have a list of fun and easy activities
to do at home because we know children are eager to learn new things. Here are three indoor
activities you can try to combat cabin fever this winter!
Snow Trucks
This snow truck idea is a great sensory activity that kids will love! The great thing about it is that
children get to use their imagination and bring the idea of playing in the "snow" inside! All you
need is white paint, any kind of toy truck or car, and brown craft paper to act as the dirt road!
Then the fun begins! Drive the trucks through the paint and create snow tracks all over the paper.
This setting allows the little ones to explore painting without so many rules or instructions!
Once your kids are done painting, grab a bin, add water and soap, and take the toy vehicles
through a car wash! Let your little ones scrub the paint off the cars and get them squeaky clean!
This extends the activity, and they might even enjoy this part more than the actual painting!
Indoor Scavenger Hunt
It's hard not to get bored when you are stuck inside, especially when you are doing the same
thing over and over. Switch it up by creating your own scavenger hunt in your own home! This
will bring so much excitement to everyone and it's a great way to bond with the entire family!
Create a scavenger hunt for different parts of your home and have your children run around
looking for certain items! Because let's be honest, what kid doesn't enjoy running all over the
house? Watch as your little ones set out on their little adventure and listen as the laughter echoes
through your hallways. The great thing about scavenger hunts is that you can create endless ideas
and themes and add new challenges to make them different, but just as exciting! Try a winter
themed scavenger hunt and scour around for hot cocoa, beanies, warm socks and more! Great for
kids of all ages. You control the difficulty level depending on age range, and you'll be so happy
you chose this option to keep everyone occupied!
At Home Movie Theater
Last, but certainly not least, is an activity that the entire family will enjoy, because it involves
eating your favorite snacks, watching your favorite movie, and keeping warm! The greatest
combination when it is too cold to play outside! Print out movie tickets and set up a small
concession stand with your must-have drinks and snacks (popcorn is a must!) If you want, make
it extra cozy by making a fort out of your softest blankets and pillows. Turn off the lights and
begin watching your favorite movie! Try the movie Elf if you want to laugh or put on a family
favorite, Frozen, to keep you in the chilly holiday spirit! This is great if you're looking for an
activity to help wind down and relax from an eventful day of doing the others listed above!