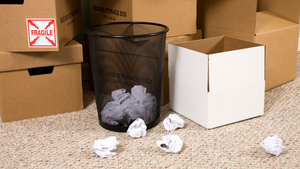 Moving to a new home is an exhausting process for both body and mind. During this transition time you have a responsibility to move all your belongings safely from one place to another. But it's not just the physical things that you have to move; it's also the administrative stuff that needs to be transferred, such as utilities. During a hectic move, you are uniquely vulnerable to identity theft as criminals can take advantage of forgotten documents or confusion over addresses to steal your identity. Be especially vigilant during a move and safeguard all your paperwork that may contain personal valuable information. We created a list of identity theft precautions you should take during your transition to a new home.
Change Of Address
Banks, post office-you know the drill. You need to update your address with these places to ensure a smooth move without complications or anything getting lost. Information in mail contains personal details that can be used to commit identity theft. Make sure to fill out your old and new address correctly and know when exactly the post office should start forwarding your mail to avoid any delays in your mail deliveries. This is important because it helps ensure your mail isn't sent to the wrong people or sitting vulnerable in an unchecked mailbox.  Don't forget to update your address with other places like doctor's office, retirement account, utility services, etc.
Safeguard Personal Paperwork
Best way to protect your sensitive documents (passports, birth certificates, social security cards etc.) at home is to have them locked in a safe. Always keep all important personal paperwork with you when you travel. Hired movers, family or friends can possibly misplace or even intentionally steal sensitive documents that leave your identity vulnerable to theft.
Destroy Paperwork You No Longer Need
Throwing document in the trash is never a good idea because somebody with dishonest intentions may find them and use them to commit fraud. Shredding paperwork is the best way to protect your information. If you don't have a paper shredder, hand shred your documents at the very least.
Hire Moving Company With Good Reputation
Trusting movers with all your belongings is never easy. Do your homework before you hire a company and let them in your house. Ask trusted family and friends for referrals. Check online reviews-it's a good rule of thumb to read some of the best and some of the worst reviews to identify if there are any patterns. Look for complaints with organizations like the Better Business Bureau. Price-check multiple companies to ensure you are getting combination of the best price and service.
Monitor Your Credit Report After The Move
Moving is a complex process during which we may forget to do some things because our life can be temporarily chaotic. It's possible that some stuff simply falls through the cracks. Checking your credit report for signs of identity theft should not be one of the things you neglect to do during a time of transition. Consider signing up with an established credit monitoring service that watches your identity for you and keeps you in the loop when there is possible suspicious activity.
---
This article was originally published on IDIQ's website: https://www.idiq.com/
---
Did you enjoy reading this article? Visit our blog page to read other similar articles.