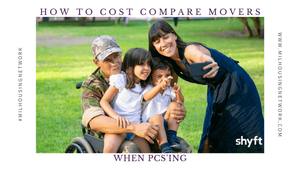 Permanent change of station (PCS) is something that military families are all too familiar with.  Military families usually move every two to three/four years. This can fetch a pretty penny when it comes to moving costs, not to mention all the special equipment that needs special care and attention. That is why it is important that you find the best, and most reliable moving companies. After all, you need to feel safe with every single move. We will show you how to compare movers so you can find the best of the best for your move, and keep the costs of your move low.
Going for DITY Move (Do It Yourself Move)
There are two ways that you can do a PCS move. The first is with a TMO move (Transportation Management Office) while the second is a DITY move (Do It Yourself Move). The pros of the former are that a TMO offers you less stress, as well as worry, because they manage the move for you.
A DITY move also has a lot of benefits. One is that the US government will reimburse you 95% of the costs of moving from station to station. This is dependent on your authorized maximum luggage weight. And, you can also get $25,000 insurance coverage.
What is more, is if you use your moving fund wisely, i.e. hire the best movers at a decent rate, you can spend less than the government payout. Therefore, you can keep the difference. Going DITY could make you some extra money if you use it as well as plan your move very well. But, you are responsible for coordination between the moving companies and your family. This is where the stress comes.
More to DITY Move
While the 95 percent reimbursement is really tempting there are other factors that going for a DITY move has to offer you. You can think of it this way that the government is paying you to move your family from one station to another.
So much so, that you can also be reimbursed to travel costs when you travel with a commercial vehicle. This is seen as a per diem. A per diem is that of an allowance given daily to employees, or in this case, military personnel to cover travel costs on a business trip or in this case for PCS. Furthermore, if you decide to travel in a private car then the cost is a mileage reimbursement usually.
And, there is also DLA -Dislocation Allowance. This is an allowance that aims to cover miscellaneous expenses. These are the costs that can pop up, unexpectedly during a move, that other types of programs do not handle.
Plus, when it comes to days off there is a permissive 10-day TDY (Temporary Duty) that comes in as part of your PCS moving expenses. This means that you can take days off to make the move. However, these days do not count as part of your leave so that you have time to find a new home and move in. Therefore, your PCS move does not cut into your paid leave.
When it comes to storage you can also get the government to store some or all your belongings during your new military assignment up to your maximum weight as stated by the military. This can also be a good way to count down on moving costs since moving companies charge according to weight and distance.
PMM Move (Personally Procured Move) – Another Way to Save Money
PMM (Personally Procured Move) is the same as DITY (Do It Yourself Move) since it means that a member of the military i.e. you organize the move without having the military do it. However, to make a successful PMM move you would have to do research and find the best of the following "moving ways" within a decent budget.
One of the ways to make a PMM move is by renting equipment. This can be a trailer, car, truck, etc. And, you will get an advance operating allowance that will be calculated based on the mileage that is authorized. As well as the weight estimation of your luggage. However, you will be in charge of loading, unloading, packing, unpacking, etc. and driving. That is the catch that you have to do everything. Plus, storage at your new PCS will be part of your budget. But, you will get a reimbursement.
Another easier way is that you load your luggage, and the movers drive it. This is when you decide to go with a commercial moving truck from a moving company. They will drive all your items to your new PCS. But, you have to load it up, let them drive, and then unload it. Furthermore, the company must give you weight tickets. And, the moving company has to be registered as it has to have an ICC number. As well as State or Federal Regulation numbers.
You can also decide to go the way of POV (Privately Owned Vehicle) PPM. So if you have a car then this could be the way to move. However, the current registration of the car has to be given to the military. If you are borrowing a car, then you will have to get written permission to send it to the military. And, the car has to be a cargo type of car, not just the standard one for passengers.
How to Find Experienced Movers on a Budget  
If you decide to hire a moving company to help you make sure that you and your family get to the new PCS safely and in due time, then you would have to do a lot of research and compare rates. However, you cannot just compare the prices since you also have to take into account what else moving companies have to offer you.
The best way to find movers is to make a table with certain headings such as rate, specials, etc. And then to Google to death the different movers that could take on your moving gig. While researching you should look at their site to make sure that they are registered companies as well as legitimate.
Preparation for The PCS Move
When it comes to PCS moving you would have to put in the leg work before you even start researching the moving company to take on your PCS move. This means to make a budget so that you know how much you would need to spend. Even though going DITY opens you up to reimbursement you would still want to figure out how to save as much money as you can. So that you can get something back in a finical way.
Therefore, you would have to learn what the military can cover as well as what obligation you have to provide to them. Also, keep in mind that you have to work out what to pay up-front as well as when you arrive at your new home. This can be utility, furniture, etc.
Another factor to do before your military move is to close down the accounts or to transfer them. This can include bank accounts, insurance policies, gym memberships, etc. And, you should think about additional insurance regarding your items during the actual military move. You can start by seeing what falls under that military policy.
Plus, pay off all your outstanding fees and bills, etc. before your military move so that you have nothing holding you back. As well as make sure all your paperwork is sorted out in terms of change of address.
The Best Way to Compare Move Costs 
Going back to the topic of comparing movers, this can be hard to do as well as time-consuming. But, with Shyft it is not. Plus, Shyft is also your go-to personal moving organization that will manage your entire move for you starting with finding multiple moving quotes from reliable and accredited moving companies. Shyft will do everything to make your PCS move easier, safer and to save you money.
All you need to do is to fill out their super short online form on their homepage, and this fintech company will get to work. How they work is that they will give you an experienced move assistant to guide you all the way to your new station. The Move Assistant will call you at a time that is convenient for you – they're available 24/7.
Once you let the Move Assistant know your requirements and budget, they will get the inventory of what you're moving over video chat in 30 min or less. Within half an hour after the call ends, your inventory will be sent to you for confirmation. Then Shyft will search through their bidding platform to find you as many moving companies quotes as they can. You'll be able to compare the quotes, side-by-side on the app, and choose and book the best one for your budget. You'll also see what else these experienced, licensed, moving companies have to offer.
It is through their app that you can tick boxes that are relative to your move. And easily compare the rates from the different movers. This is so that you can get a full picture of the moving costs. Helping you to save money.
And, while we are on that important topic, Shyft does not charge you for their services. Furthermore, people and businesses that have worked with Shyft saved, on average, $600 per move.
What is unique about Shyft is that the prices quoted are usually what you pay – prices only change if new inventory is added. There are no hidden fees. Furthermore, if you have a question you can contact Shyft at any time of the day, night and even over the weekend, public holidays included.
And, another great side of Shyft is their handy online marketplace. It is where you can find everything that you need from furniture, insurance, and even storage etc. Plus, every item in this marketplace comes with a discount.
The best way you can compare moving company costs is by going with Shyft's software and using what they have to offer. This will save you time, nerves, and money. And, Shyft is a great group of people with the goal of moving you to your new PCS home.
---
Did you enjoy reading this article? Visit our blog page to read other similar articles.