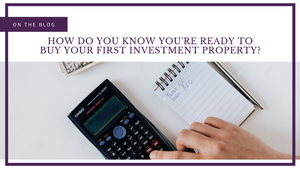 Investment property is a great way to make passive income! When we use the phrase "investment property," it is a property you plan to buy to earn a return on the investment either through rental income, resale of the property for the future, or both. It is all about the investor mindset of having a plan:
How do you know you're ready to buy your first investment property? You are set to invest if you have considered the following steps. 
Taking the time to understand the reality of your expectations with the demand of the local real estate market is valuable in finding lucrative real estate deals. Serious investors do their homework and investigate the market industry as a priority on their list of things to do, such as property valuation. Property valuation assesses value based on location, condition, and other factors. By including the value of the houses within the neighborhood of interest, annual property taxes, school districts, highways, or areas desirable to be nearby, you will know a suitable location for rental property investing. Why? Unlike a mortgage lender's valuation, which only checks the value of the property itself. Knowing the potential in property valuation acknowledges the financing during the purchase, listing price, insurance, taxation, and investment analysis.
A big question for first-time investors is, "How much can I afford?"  It's good to know what you are qualified for and better understand what is affordable according to your household budget.
Financing can be the most daunting part of buying your first investment property. With the real estate market being capital intensive regarding other investments, having a financial plan in place is necessary when buying your first investment property. "How much money have I put aside for my first investment? Liquid assets such as bank savings accounts and money market funds are an excellent way to invest for yourself before you buy any property. This type of intentional investment in your planning will allow you to access readily cash in hand to cover any down payment, closing costs, or renovation costs.
One last tip to consider, know how to analyze a deal when you see one. It is beneficial to learn the Potential ROI (Return of Investment). If I put money into something instead of just getting my money back, the question prompts how much more I will get back? This question should also be at the forefront when investing in property—doing an in-depth analysis to ascertain whether it has an excellent rental yield. Investment property analysis is the most prominent step in our guide on buying your first investment property in 2022. Many promising investment property calculators provide real estate investors with readily calculated metrics like cash flow, cap rate, and cash on cash return.
When we consider what we will put into the property and take the time to consider the difference, how will this investment property increase in market value and rental pricing for the future? For when you take the time to calculate what could be your potential return on investment, you will understand whether the property of interest is a good deal or not.
---
This article was provided by Navy Mutual who provides affordable life insurance and annuities to those who serve (or have served) our nation. More information about them can be found on their website https://www.navymutual.org/.
---
Did you enjoy reading this article? Visit our blog page to read other similar articles.