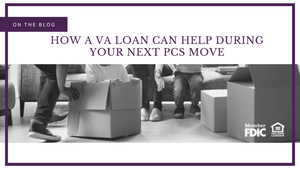 For many military families, a PCS move, or Permanent Change of Station, is almost always a possibility. If you're assigned a PCS, you may feel many mixed emotions — excitement, uncertainty, fear, and hope. Moving is hardly ever easy, and you may feel even less comfortable when you have less control over the situation.  There are ways to alleviate the stress, from proper planning to VA Loans.
The peak "PCS Moving Season" is between May and August, so as the summer season approaches, learn how you can make the most of your PCS move and what options you have.
GETTING READY FOR YOUR PCS MOVE
Planning is one of the best things you can do to ensure the smoothest possible PCS move. If you start planning as soon as you have your orders in hand, you won't regret it.  If your PCS move is during the summer, it's even more important to be proactive. Contact your local Transportation Office to make sure you have a plan and understand all your options and choices along the way.
Check out our full PCS move checklist.
When it comes to PCS moves, it's not only not easy — it's also not free. You can expect to be making many upfront payments as part of the moving process until DLA (dislocation allowance) kicks in. It is also the case that no matter how well you plan, there will likely be expenses that DLA just won't cover.
That means it's even more important that you make the best possible money moves for you and your family.  That includes taking advantage of the financial options you have for being a military family.
HOW A VA LOAN CAN HELP
If you're planning on buying a home in your new location, a VA Loan is likely the right option for you as it often offers the best rate and does not require a down payment.
If you work with a loan advisor from Armed Forces Bank — an approved VA Lender — we'll help you get started on your application.  We will stay with you through the whole process, so you'll never be alone.  Armed Forces Bank will also waive the loan origination fee on all VA loans for borrowers who qualify for the VA loan product and make a donation to the Folds of Honor organization after each VA loan closing.
With a VA home loan, you can purchase any home that would be considered your primary residence. This includes single-family homes, duplexes, or condos. However, second homes, investment properties, and farms/lands do not qualify.
One of the main benefits of a VA Loan is that it provides 100% financing — which means there is no down payment and no additional insurance costs for the home buyer. (However, buyers may have to pay a "funding fee," based on exemption status, which can be paid off over time.)
What if you are worried about committing to buying a home when you're not sure when your next PCS will be? Another major benefit of VA Loans is that they are assumable. This means that when it's time to sell your home, the loan can be transferred to the new home buyer — even if they aren't a service member or qualified veteran.
This is highly attractive to many home buyers because VA Loans often have better rates and terms than conventional or FHA mortgages.
When you move on to your next PCS and your next home, you'll be able to apply for another, brand-new VA Loan. VA Loans are designed with servicemembers in mind, so there's no limit to the number of times you can take out a VA Loan. You can even have more than one VA home loan at a time.
WHO QUALIFIES FOR A VA LOAN?
VA Loans are offered exclusively to "qualified individuals" who are serving or have served in the military. That's because all VA Loans are guaranteed and administered by the U.S. Department of Veterans Affairs.
So, how do you determine whether you are qualified? The first step is requesting a Certificate of Eligibility (COE) from the VA. If you do not have a COE, we are happy to help you navigate that process as part of completing your application.
The COE validates the eligibility for a VA home loan by the VA. It also indicates the amount of available guaranty or entitlement.
To obtain a COE, fill out the "Request for a Certificate of Eligibility for VA Home Loan Benefits (VA Form 26-1880)" form, then submit it to the VA. Additional information about this form and other VA loan eligibility requirements are available on the VA website.
When it comes to qualifying for the loan, it's often easier for military service members to qualify for a VA Loan compared to other mortgage loan programs. VA Loans have lower credit score guidelines than conventional loans, for example.
APPLY FOR A VA LOAN WITH ARMED FORCES BANK
It's easy to get started with the Armed Forces Bank online or phone application process. Here are the benefits of a VA Loan with Armed Forces Bank:
No down payment
No mortgage insurance premiums to pay (though funding fee may apply)
Flexible credit standards
Negotiable interest rates
Options available to tailor your mortgage to your unique situation
No penalty to pre-pay or to refinance your VA home loan at any time
An assumable mortgage
$0 Loan Origination Fee1
ARMED FORCES BANK IS HERE TO HELP MAKE YOUR PCS MOVES EASIER
Armed Forces Bank is a family-owned military bank with a mission to provide a superior banking experience with fast, easy and personal service. We know what it's like to be part of a military family, and we want to help you make financially smart decisions for your family and lifestyle. Working with us for your VA Loan can help make your PCS move easier.
Apply with our online or phone application process.
Member FDIC
1The lender origination fee is waived for borrowers who qualify for the VA loan product. Borrowers only pay third party closing costs.  Third party fees include appraisal fee, title fees, insurance, etc. Owner Occupied Property only.
Subject to credit approval. VA funding fee may apply. VA loan qualification guidelines apply.
VA loans are offered exclusively to qualified Military Service Members. 100% Loan-to-Value on VA loans only. Additional restrictions and fees may apply.
---
This article was originally published by Armed Forces Bank.