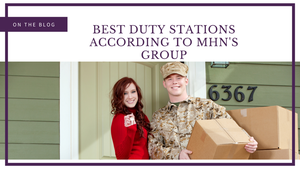 MilHousing Network launched a survey in our "Things I Wish I Knew Before I PCS'd" Facebook group as we tried to find out what are the hot spots and hidden gems among all the available bases where you might end up. The victory goes to the largest US installation in the Asia-Pacific region and the hub of airpower in the Pacific—Kadena Air Base. Located in Okinawa, Japan, Kadena AB attracts military families mainly with its beach vibes and for its opportunity to experience living in a foreign country. And although this is not the cheapest place to live it must be well worth it considering the number of votes it received in our survey.
Eglin Air Force Base, located in Florida, came in strong in a second place. Who would not want to live in a place where others go for a vacation? Talk about living the dream! If you get stationed at the Eglin AFB, which is the largest base in the United States Air Force, you will have Florida's Emerald Coast right at your fingertips.
Fort Carson/Peterson Air Force Base also had a strong support. Both bases located in Colorado Springs mere twenty minutes from each other, this area has something other than beaches to offer for a change. Fort Carson, also known as "The Mountain Post", is one of Army's youngest installations and has been recognized as the "Best Hometown in the Army". Peterson AFB was renamed to Peterson Space Force Base in July 2021 as it is focused on space and intercontinental ballistic missile operations. These two bases are in a family friendly location that offers endless outdoor recreation opportunities such as hiking. Food is also said to taste good here.
Joint Base Elmendorf-Richardson in Alaska won the fourth most popular vote. Elmendorf is Air Force and Fort Richardson is Army. These two bases merged in 2010 and are located in the largest city of Alaska—Anchorage. If you like snow, being outdoors, hiking, hunting, and fishing, this may just be the place for you to be in your element. And the biggest bonus of living in Alaska is its picturesque nature for you to look at every day.
Virginia Beach came in close behind JBER. There is a Naval Air Station Oceana but also a couple of other military bases near, which makes it a particularly military friendly area with various community events celebrating different American holidays. This area has beaches, mountains, historical sites, diverse population and food.   For the last place we have a tie between Joint Base Lewis-McChord and Schofield Barracks. JBLM located in Washington State consists of Army's Fort Lewis and Air Force's McChord. This installation gives you the unique opportunity to visit Canada due to its proximity. Some other things to do near JBLM are whale watching, island hoping, and rainforest hiking. Schofield Barracks is an Army base in Hawaii on the island called Oahu, which is sure to put some "aloha" in your spirit. From attending a Luau, to snorkeling, visiting Pineapple plantation or a waterfall, Schofield Barracks is a place you won't regret to be stationed at.