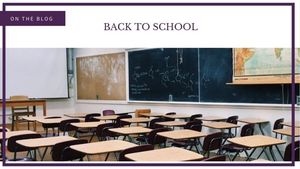 Can you believe that it is back to school time already? For your college age child, there is usually excitement in the air surrounding a back-to-school move. For some, it is a new beginning, for others, it is a chance to get back to hanging out with friends and enjoying those near carefree days of the college lifestyle.
Due to that excitement, there are some important details that can get lost. One of those details is how to best protect your child's belongings while they are away at school. Though it is not an exciting detail to think about, it is definitely important to consider. Even though many college age students don't take a lot with them to college, the cost to replace their clothes, textbooks, and electronics can add up. But what is the best way to protect your child's personal property while they are away?
For that question, we reached out to our friends at Armed Forces Insurance to help shed some light on this topic and provide you with the information you need to make an informed decision.
Our friends at Armed Forces Insurance are dedicated to helping military family in all situations, including helping you and your child protect their belongings from damage due to fire, theft, storms and other unfortunate incidents that can occur in life.
There are two basic options to consider when it comes to insuring your child when they are off at school. Below is a breakdown of those options.
Current home insurance policy – Many home insurance policies will cover your child's belongings at school as long as they are under the age of 24 and are enrolled in school full time. It does not cost anything extra. There will be limitations as most policies will limit the total dollar amount of coverage for your child's belongings to 10% of your total personal property coverage. Also, any loss that your child experiences (fire, theft, water damage, etc.) will be subject to your home insurance deductible. For most homeowner policies, this deductible is generally between $1,000 and $2,500 dollars but can be more depending on the claim and the policy language. Another potential negative to covering your child with your home insurance policy is that any loss turned in against your home insurance could result in your home insurance premiums increasing at your policy renewal date.
Separate renter insurance policy – Your other option instead of using your homeowner insurance policy is to setup a separate renter insurance policy for your child. This policy would cost a little more but it would allow you to be able to specify how much coverage your child would need. The deductible options are often lower than your home insurance policy as they generally range between $250 and $500. The other advantage to a separate renter insurance policy is that your home insurance policy would not be affected if your child has to make a claim due to a covered loss. The claim would go against the separate renter insurance policy and not potentially negatively affect your home insurance
Finally, there are other coverages to consider as well such as coverage for your child's computer while they are at school. Some homeowner and renter policies offer a special electronics coverage endorsement that can help to better protect your child's computer. Theft and having your child's computer or electronics fall off a desk and break is one of the most common claims that occur to college age students. Some policies may provide extra coverage for computer and laptops. Ask your agent if your home or renter policy has extra protection against lost, stolen or broken electronics.
Those are just a few back to school tips from Armed Forces Insurance. For more tips on this and other topics, head over to Armed Forces Insurance – Resources and Tools page.
---
Did you enjoy reading this article? Visit our blog page to read other similar articles.
---
As a military family, you need insurance that matches your needs and protects what you value most. You deserve an insurance company that is committed to serving you. MilHousing Network is proud to partner with Armed Forces Insurance to bring military families reliable homeowner's insurance options when buying a home. Contact them today at 800-313-1936 or visit www.afi.org/milhousing to learn how they can support your unique military lifestyle.