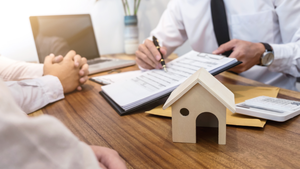 For over a year we have been posting blogs with the help of Armed Forces Insurance about all kinds of insurance related topics ranging from how to best protect your property during a PCS move to how to properly insure the new home you are purchasing. I decided to do something different this month. I wanted to take you inside Armed Forces Insurance and peak behind the curtain. I wanted to find out what a day in the life of an AFI agent looks like?
I reached out and spoke to a couple of agents at AFI to get a feel for what an average day is for an agent. When I reached out, I discovered that AFI has many licensed insurance agents ready to assist with your homeowner insurance needs. Within AFI, there are a couple of different departments that work directly with the public. There is the new member sales side that focuses on prospective clients, and the current member sales and service side of the company that takes care of a member once they have signed up for an insurance policy.
The new member side of AFI is responsible for answering questions, quoting, and selling policies to families who are new to AFI. The Members Sales & Service side of AFI, is there to assist with servicing existing polices and helping their current members add more protection when needed, such as when they buy a new boat or a new home.
I started out with the new member side of AFI and I reached out to Kristen. Kristen is a sales agent who has been with AFI for over 15 years. When I asked her to describe her day, she used one word to describe her day. Crazy! (but not in a bad way) Her day starts out as one might expect. She comes into the office and logs into her computer. She then immediately turns her phone on to begin to accept incoming calls. That is when her day gets unexpected and normal gets thrown out the window.
Though insurance products are similar and buying a home is buying a home, no two households are alike. Each phone call that comes in could take her down a completely different path based on different factors such as location, family make up, age of house, claims history, and more. If someone is calling in to quote other products, Kristen has to swiftly move from home, to auto, to personal property, to RV, to boat and so on. Her first call might be with someone who is purchasing a home in San Antonio. Her next call might be a family PCS'ing to Germany who needs personal property coverage. Her third call might be a client calling back in to accept a quote they were offered a week ago. Her 4th call might be a mortgage company calling to get documents for a new purchase.
On top of that, depending on how busy she is, Kristen will then use any time in between calls to start working on web quotes that came in overnight or answering emails that she received overnight or throughout the day.
Essentially, there is not much down time while she is at work. Other than breaks and lunch, the day is spent either talking with potential new members, selling policies, or answering emails and following up on web quotes. With that much work, a day can really fly. However, don't feel too bad for her, Kristen told me she prefers keeping busy and enjoys interacting with all the perspective members that call in daily. She loves to educate everyone on the benefits of an AFI policy and help answer their questions on insurance coverages.
On the existing member sales and service side of AFI, I spoke with Tessa who has been with AFI over 25 years. I asked her to describe her average day. Tessa's response to my question was "busy, busy, busy". When I asked her if it was crazy like Kristen described on the sales side, she replied "oh yes, that too".
Tessa's day begins the same as Kristen's by coming into the office turning on the computer and logging into the phone. That is where similarities end. Tessa and those who work on the existing member sales and service side not only have to be versed in selling insurance policies to existing AFI members. They also have to answer billing questions and take payments on existing policies, answer coverage questions, make changes to policies as requested, send policy documents to members, transfer to claims if a loss has occurred, and handle any other request or question AFI members have. Since Tessa does not focus solely on sales, she has to be a jack of all trades as they could be quoting a policy one minute to answering coverage questions on an existing policy the next.
As both agents have shared, a day in their life can be very very busy but also very very rewarding. Both agents explained how they take pride in helping both perspective and current members better understand their insurance policies and take pride in making sure they are helping anyone who calls in best protect their home, auto, or other property.
If you would like to learn more about Armed Forces Insurance or have questions regarding your current insurance policies, AFI's agents are eager to help. For a more information on their policies or a quote on your insurance needs, head over to Armed Forces Insurance and see how they can help you today.
---
As a military family, you need insurance that matches your needs and protects what you value most. You deserve an insurance company that is committed to serving you. MilHousing Network is proud to partner with Armed Forces Insurance to bring military families' reliable homeowner's insurance options when buying a home. Contact them today at 800-313-1936 or visit www.afi.org/milhousing to learn how they can support your unique military lifestyle.
---
Did you enjoy reading this article? Visit our blog page to read other similar articles.